The Lipa Summer School is a school on topics connected to logic in computer science. It is part of this grant. It was held in Warsaw, July 3-6 2017.  The school had 4 mini-courses given by:
Each mini-course was 6 hours long (4 x 90 minutes). Here is the programme.
Registration is closed. There will be free lunch and coffee breaks for registered participants, but not dinner (we will do an informal picnic on some evening without rain). The school is followed by ICALP.
---
Dates
May 30 Registration with request for student accommodation
June 20 Registration without request for student accommodation
July 3-6 School
---
Local information
The school was held at the University of Warsaw, in the Center of New Technologies, whose address is Banacha 2c. Be careful about the map on the Center's page, it's wrong, use the one below.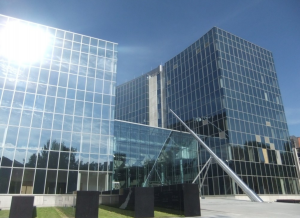 Picture of the conference venue and map below
A taxi from the airport should be around ≤ 20 PLN during the day (the official taxi queue is when you leave the airport, don't go with the people who whisper "taxi, taxi"). Here is a link for accessing the school from the airport using public transport (bus 175 or 188).
---
The school is part of the grant Lipa that has received funding from the European Research Council (ERC) under the European Union's Horizon 2020 research and innovation programme (grant agreement No 683080).