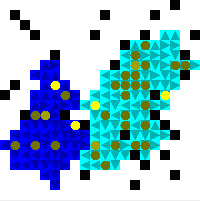 FunGenus
---
A simple genetic algorithm where organisms are ''plants'' built by cellular automata.
Features
Behaviour encoded as binary DNA sequences.
Natural selection model based on actual adaptation.
Sexual and asexual reproduction.
Controllable conditions of the environment.
Growing multiple populations at the same time.
If not stated otherwise, the presented programs are objects of copyright restrictions.
The author is not liable for damages resulting from the use of the presented programs.
---

last modification: 13:22 16.08.2017